It certainly has been a while since I've done a top 10 list, which I apologise for. But, I'm back, and what better way to make a return than with a superhero themed list! Superhero movies are arguably my favourite kind of movies. They transport you into a world filled with wonder and things you could only dream of. Some films do it better than others, especially these 10.
The Punisher (2004)
Now now, don't jump on my head. The Punisher has had three notable adaptations; The Punisher in 1989 starring Dolph Lundgren, Punisher: War Zone in 2008 starring Ray Stevenson, and the one I have included in this list, The Punisher in 2004 starring Thomas Jane. It didn't exactly go down a storm with critics, and some fans alike, but Thomas Jane was an excellent Punisher and the film did include some pretty memorable scenes.
It was nice to see a much more adult, dark superhero make an appearance on the silver screen, and the good news is The Punisher is coming to our screens again in the second season of Marvel's Daredevil on Netflix. Check out the short film Dirty Laundry below – trust me it's crackin.
Chronicle
Strictly speaking Chronicle doesn't have any comic book roots, but that doesn't mean it isn't a superhero film. Shot in a found footage style, it tells the story of three teens who find themselves with certain powers after a mysterious incident. Some of the sequences are absolutely incredible, but even the simpler scenes showcasing their powers are fun to watch. Fun but also pretty dark, this should be on everyone's list of must-see movies.
The Dark Knight Rises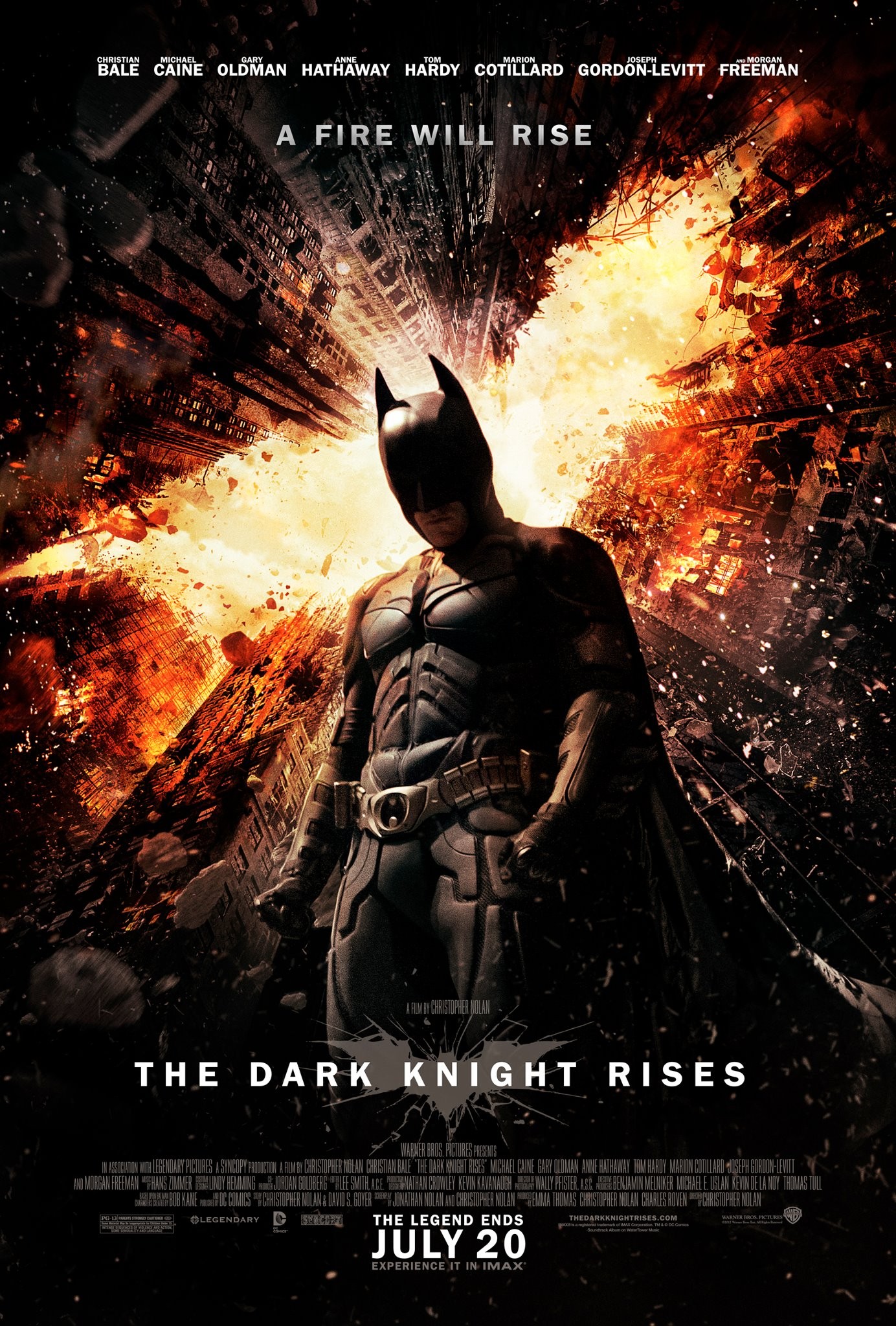 Ahh, surely you all expected to see Batman appear somewhere on this list. The final film in Christopher Nolan's trilogy was fantastic, continuing the dark tone that ran through the first two films. Christian Bale was brilliant as Batman as always, but it was Tom Hardy as the main villain that stole the spotlight. Starring as Bane, he brought an incredible screen presence, not to mention that he is a bit of a tank. With great fight scenes also, this is a great watch. Will Batman make another appearance on this list I wonder?
Kick-Ass
When Kick-Ass was released I didn't really know much about it. Upon seeing the trailer however I was curious, and I'm certainly glad it was brought to our screens. One of the more hilarious superhero movies, it takes a different direction than most films in the genre, filling screen time with bloody violence rather than toned back punches in the face. The story of a normal teen without any powers wanting to be a hero is great for a film, especially when you through in some interesting characters into the mix. Especially to praise is Chloë Moretz, who plays an 11 year old with a particular set of skills.
Captain America: The Winter Soldier
Captain America is a superhero I didn't really know much about until the whole Marvel Cinematic Universe came into play. The first film was great, but its sequel was definitely an improvement. Chris Evans was excellent as Cap, as well as others in the cast, like Scarlet Johansson as Black Widow, Anthony Wilson as Falcon, and my two personal favourites Sebastian Stan and Frank Grillo. Marvel have been pulling it out the bag for years, and this sequel shows that they're still capable of wowing us. Have a look at a scene from the film below.
Iron Man
Back to where it all began; the start of the MCU was marked with Iron Man. An action packed origin story, it breathed life into the superhero genre. What is particularly great is that it isn't really cheesy, but still manages to have humour throughout it. Robert Downey Jr is a perfect Iron Man, the movie literally wouldn't be the same without him in it. If you can think of someone better for the role then let me know. Boasting a solid narrative and great special effects, this is an essential addition to your DVD collection.
Guardians of the Galaxy
When it comes to films, I have a few regrets. Like going to see Gulliver's Travels, or getting myself all excited for Poltergeist when in reality it was garbage (read my review for Poltergiest here). But none as big as not seeing two particular films at the cinema. One of those films, was indeed Guardians of the Galaxy. I think it's cause I knew nothing about their characters that I just wasn't interested enough to make the effort. But when I saw it on DVD, I absolutely loved it. Absolutely hilarious, plenty of action – it's perfect. Chris Pratt shines as Star-Lord, along with the rest of the supporting cast, notably Bautista as Drax and Bradley Cooper as Rocket Racoon. Also can't forget the killer soundtrack. HOOKED ON A FEELING!
Avengers Assemble
Mind I was talking about those regrets? How I didn't see two films at the cinema? Yup, this is the other one. Horrendous I know, but trust me I tried to go see this, but plans just never came together and I missed my chance. I don't need to go into tremendous detail about this film. It's a dream came true and if you haven't seen it yet, go watch it. I guarantee you'll have a great time.
The Dark Knight
Oh, Batman has returned, in the form of the number two spot. The Dark Knight is a remarkable achievement. Not only did we get to see more of Christian Bale's Batman, but we saw one of cinema's greatest performances – Heath Ledger as the Joker. Jack Nicholson's interpretation of the Joker was much more light-hearted, and went for the more comedic element of the character. Heath Ledger took the Joker in a much darker direction, showing how truly insane the character is. Through Ledger's method acting, he showed us the Joker in a way none of us were prepared for. What an amazing talent we sadly lost, but he will forever be remembered. His Oscar was very much deserved. Bravo Heath. Have a look at one of his scenes below.
Spider-Man 2
Here we are, finally at the number one spot. I took quite some time considering this, and Daredevil nearly got it….KIDDING.
For me it was always Spider-Man 2 and it will remain that way for the foreseeable future. Incase you're confused, I'm definitely not talking about The Amazing Spider-Man 2, I'm referring to Spider-Man 2 starring Tobey Macguire. The first Spiderman was a fantastic film, but its sequel is spectacular. It is jam-packed full of Spidey action. We all love watching him swing through the streets of Manhattan, but we got more than that. Two of the most brilliant scenes are the slo-mo shots as Spiderman and Doctor Octopus fall down the building, and the whole train fight with the afore mentioned characters. Doctor Octopus is also a fantastic villain, brought to life by the brilliant Alfred Molina.
I like the fact that there's still a wee bit of cheesiness, but it never goes too far, and the film still manages to be pretty character driven amongst all the action. Showing how amazing Spiderman really is as a character, I loved every second of this film, and always will. Nice one Spidey. Have a look at the full train fight scene below (also my favourite scene from the film).
So, what do you think? Is my list a shambles? Or do you agree? Let me know what you think in the comments below, or send a tweet using the widgets to @frew_cameron. Also don't forget to let me know your ideas for a top 10 list in the suggestions page. Thanks for reading guys!